Overview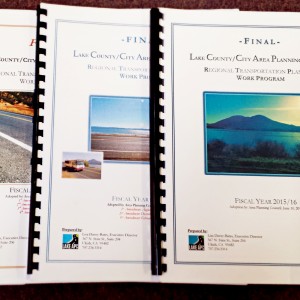 Annually the Lake APC develops and adopts an Overall Work Program (OWP). The OWP provides an overview of transportation planning activities in Lake County for the current fiscal year. The OWP is reviewed and approved by the individual jurisdictions each year and then submitted to Caltrans. The planning projects may be funded through local, state or federal resources. Lake APC oversees the administration of, and coordinates funding for, these projects in the OWP.
Below you will find a library of Overall Work Program for the Lake Area Planning Council:
Please note:
Only the current fiscal year includes all amendments and the final document, if you are interested in previous years amendments or final documents that are not posted, please feel free to contact Charlene Parker at 707-234-3314. We are happy to help.